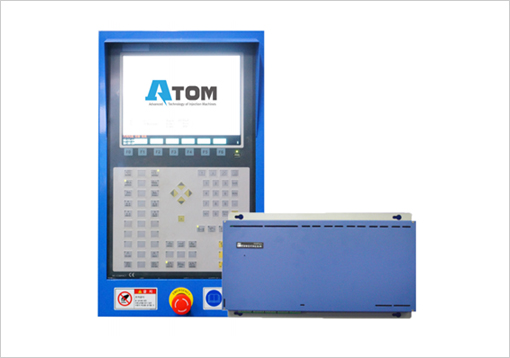 Control System

MC7000-Series
- High-performance CLOSED LOOP control by EUROTHERM
- Color touch screen(12" PC TYPE Win Ce.net 4.2)
- Long distance telecommunication by the 10base-T Ethernet
- Password for user only
- USB can be used
- Multi Language(Standard: 4 languages)
- 2000 internal memories
- Screen capture function
- Storage and analysis function by CSV format for all data
- Mold pressure control(Optional)
- Continuous recording function for injection speed, pressure graph, each channel(Min.25 times)
Closed-Loop(ImpactⅡ) Features
New IMPACT II by Closed-Loop feed back time 250㎲.
It is very suitable by 10 steps injection speed to control a goods that external figure is important.
Excellent measurement control by multi lamping function of holding pressure.
Easy weighting control by 10steps of back pressure 10steps of RPM.
Line graph function to analyze a process data of 25times for each 4 channels.
Applications
5Steps of clamping

4Steps of mold open

Monitor control of clamping force

Auto set of mold thickness

Graph display for injection speed, pressure, position

Continuous record by each channel

Display for clamping force

Data saving function of Injection

External saving function of Injection data (CSV format is possible)

5 Steps of Injection, 3Steps of holding pressure, 3Steps of back pressure, Closed loop control)

Multiple holding pressure change function(Time, Position, Pressure, Mold pressure)

PID Temp. control Alarm

Sensor breaking correction function

Mold data saving (Internal: 2000, External: Not limited)